When my friend told me "I'll be home by May, if you want to come and see me you have to do it now", I realized that in 4 years I had never been able to go to her. Graduated in oriental languages, she moved to Cairo where she worked and studied but after 4 years she decided to go back home. It was January 2011, the one defined as one of the darkest periods of Egypt, the ' Arab Spring' was beginning and nobody, above all the Foreign Ministry, advised to leave but I let the worst months go by and at the end of March I packed my bags.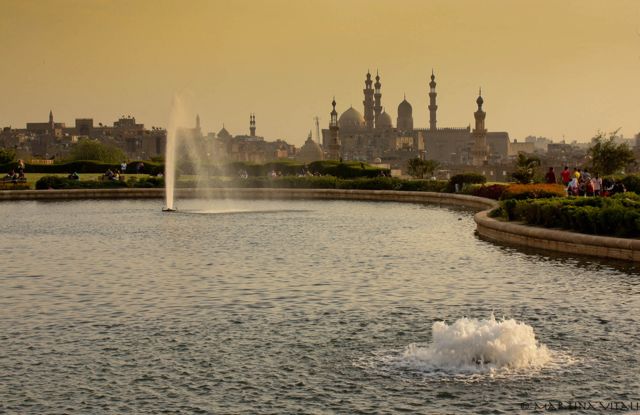 To welcome a wonderful and immense city even if the impact was quite strong : starting from Ravenna I arrived in a city with about 20 million inhabitants, soldiers at every corner of the road, tanks and curfew, let's add smog, traffic , the confusion … and the rain. In Cairo it was not raining for 7 years they told me … (it will have been a joke?) But after the storm always comes the rainbow .. so I received the Egyptian capital.The first stage of the trip was Giza but I do not want to talk about the Pyramids this time, but to introduce you to that part of Cairo that perhaps most tourists have never seen. Generally those who take the Nile cruise visit Cairo in one day: Pyramids , Egyptian Museum and a quick tour of the city seen from the tourist bus window. I wanted to live the city differently and I asked Egyptian friends to take me anywhere they could take me …
This mosque, named after its owner (the Arab-Muslim conqueror of Palestine), is located on the boundary line between the ancient part of the city inhabited by Copts and the predominantly Muslim part. The two Egyptian communities do not live in very close proximity and conflicts are often frequent. Reaching the mosque on foot was quite suggestive: soldiers armed with machine guns on the sides of the streets, I felt my eyes focused on me, the only westerner in the vicinity equipped with a camera at the neck .. good luck with me there was Egyptian friend ..
The mosque was tremendously silent, beautiful. Let the shoes out and cover the back of the neck we entered. Once past the door, it was like entering another world, the red carpets and the warm colors of the colonnade, out of the chaos of the city and in total peace … I would have stayed in the mosque for hours. The only thing that embarrassed me was the looks on me, the only woman and especially Western … but that situation made the moment even more magical.