This year I decided to realize a dream that I had in the drawer for a long time: a safari in southern Africa . I joined a group of Travel Adventures in the World and I decided to embark on this incredible journey that will start from Victoria Falls and then continue in Botswana, Namibia and South Africa .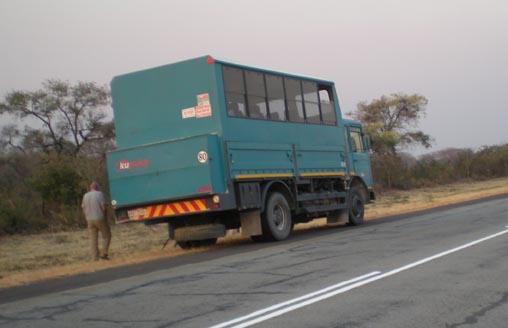 Just a few days to go and, I'll tell you to do, I'm in fibrillation. The safari that my group and I will tackle will not be exactly a comfortable trip as we will face the truck route and sleep in a tent . And since it hurries to say safari, but you do much less quickly to gear up to face it properly, this my first post I want to devote to travel preparations, because I think they could be useful for many. Most of these tips have been given to me by our group coordinator who has already made safari experiences for which they have the extra stamp of guarantee.
I start from the most frequently asked questions:
Are prophylaxis and vaccinations necessary for a trip to Africa?
The areas that I will travel (Zambia, Zimbabwe, Botswana, Namibia and South Africa) in August are very low risk of malaria so that, although there is always a personal choice, prophylaxis is not necessary. The antithetical and anti-tetanus vaccines are always advisable although not mandatory. The yellow fever vaccine is instead mandatory for those from Livingstone (Zambia) flies directly to South Africa. For the rest, I always recommend to make an appointment with the Travel Medicine center of their own city where, by explaining the route carefully, they will be able to provide you with all the necessary information. With regard to drugs, broad-spectrum antibiotics, painkillers, anti-diarrhea (antibiotics, lactic ferments) and medicines for fever and cold are recommended. Eye drops can be very useful due to the dust and the wind that are never missing in a safari!
What documents are needed?
The only necessary document is a passport valid for 6 months while no visas are required. It is necessary to bring some photos useful for visas made on site. I recommend anyone to insert the stamp in the passport because forgetting it can be very expensive! Another advice is to bring a photocopy of all documents because in the case of loss can be useful.
Currency and exchange rates

The official currency in South Africa is Rand (1 € = approximately 9.50 R).
The official currency in Namibia is the Namibian Dollar , but they also accept Rand (1 to 1), but beware that in South Africa they do not accept Namibian Dollars (1 € = 9.50 N $ approximately).
The official currency in Botswana is Pula (€ 1 = approximately € 9.43).
The official currency in Zimbabwe is the US dollar (€ 1 = $ 1.23).
However, the use of a credit card is widespread (with the exception of prepaid), to pay admission to parks, campsites, hotels and of course in the cities, and I certainly recommend taking it.
As for the dollars, bring them, possibly, in small cuts and in good condition, without abrasions.
Ideal clothing for a safari in Africa
Comfortable sneakers because it will be the shoe that will accompany almost the entire trip (at least so they told me). Hiking shoes are not required. It is advisable to wear "Teva" sandals for different occasions and above all for long journeys on the means of transport. Wide and light clothes to promote perspiration for the day but be careful, at night temperatures fall precipitously in this season so we recommend fleece and windbreaker. Indispensable a hat to protect yourself from the sun and scarves to protect yourself from dust and wind. I forgot: at Epupa Falls in Namibia it is also possible to take a bath so it is good to find a corner for a costume. I do not know about you, but I travel the k-way on the way always so that this time will be part of my luggage. I will then tell you if it helped me (we hope not!)